Accademia Italiana Roma Fashion Show 2015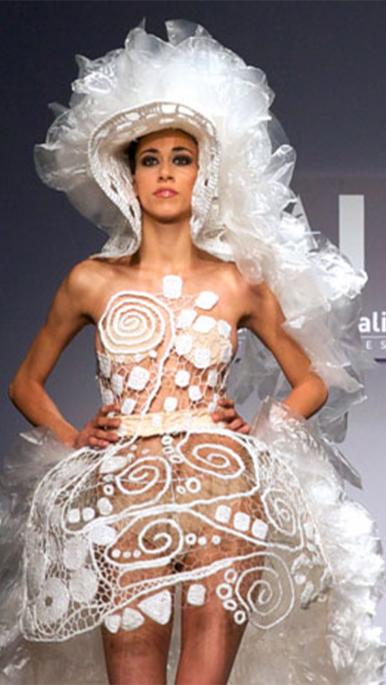 Inspired by music and focused on a look that is at times minimalist but always sophisticated, the 2015 year-end fashion show will as usual be part of the AltaRomaAltaModa Summer event, this year at the Palazzo delle Esposizioni.
On Friday July 10 at 8:30pm, the young designers in their first, second and third years of study will send their models onto the catwalk sheathed in sensual snake skins or veiled in tulle. The inspiring theme is music, from the reggae of Bob Marley evoked by the colors of the Jamaican flag to the nostalgic notes of the unforgettable Amy Winehouse, remembered in a collection of clothing and lingerie with connotations of the chosen icon, a flamingo.
One collection evokes the return of the Pink Floyd years and the concept album "The Wall". In the "Neoprene from day to night" collection two cultures, Greek and Swedish, meet. The "Touch" collection is also interesting, in which the style of Yamamoto meets the angels of the celebrated Wim Wenders film, "Wings of Desire." There is also a collection inspired by the rose, with outfits that capture the darkest and most fatal essence. The iconic, rebellious figure Rihanna becomes an Indian goddess, creating an esoteric and sensual atmosphere. The positive energy of light and emotional music takes on the color of the sun for light and ethereal clothing. A completely different atmosphere, however, is created by the peppy, upbeat sound inspired by the equalizer, with the iridescent, metallic colors of techno music and deep, dark and decisive notes of rock nights. The fashion show will conclude with outfits of a liquid form that wrap around the body like luxurious plastic packaging to give shape to the concept of the distortion of a musical staff.
These precious creations are in part supported by the contribution of Klopman International, industry leader in the Italian and international market for the production of technical fabrics for work clothes, who launched the challenge to reinvent their work fabrics in a couture key, and also by the Sharja Business Woman Council (SBWC), an association that produces precious ribbons created entirely by hand by Emirati women, using the ancient traditions of tessituram. Incorporating these ribbons into their designs allows students to embrace this social project, reinterpreting the great craft tradition of the Emirates in a contemporary way.
FREE ADMISSION WHILE SEATING AVAILABLE