ACCADEMIA ITALIANA GOES ON THE CATWALK
ROME FASHION WEEK 2022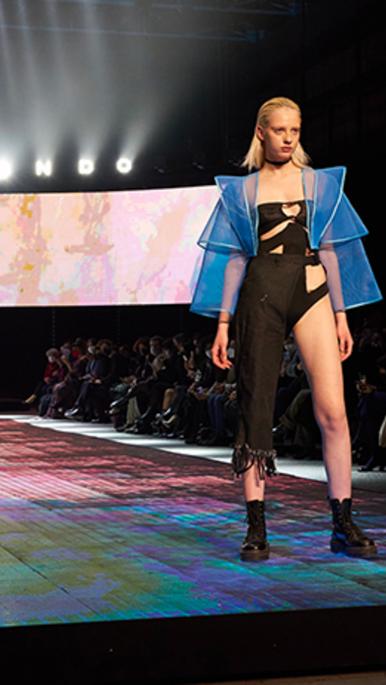 ROME FASHION WEEK 2022
Olive wood, natural pigments, transformed materials, sustainable design. The outfits designed and created by 16 students, protagonists of the Altaroma Fashion Show, Friday 4 February in Studio 5 Cinecittà Rome
The Accademia Italiana presents the collections of tomorrow's designers at Rome Fashion Week: the outfits designed and created by the students on the Fashion Design course are the protagonists of the Altaroma Fashion Show Friday 4 February at 19.30 inside the famous Studio 5 Cinecittà. An event open only to professionals (buyers and the press) due to the current pandemic, which allows students to access one of the most important sector events and meet professionals in the fashion world and head hunters of the most important Made in Italy brands. The Accademia Italiana is the only school to participate on the catwalk, within a rich calendar of events that – from 2 to 4 February – populate the Rome fashion week. Amongst the emergent talents, established brands and moments of in-depth analysis; available also in streaming thanks to the Altaroma Digital Runway platform and the new Altaroma App. "Nuovo Mondo" (New World) is the title of the Accademia Italiana fashion show, symbolizing the restart, the "white page" to be written following the upheaval caused by the pandemic. An opportunity to rediscover freedom and lightness, revolutionize the concept of fashion and beauty, focusing on new values: sustainability and circularity.
Photo credits: Marco Sciré, Giancarlo Esposito, Andrea Mallozzi, Michele Gloria.
On the catwalk we find the creations of Nardeen Samaan, Wissam Ziad Moustapha, Emmy Palmyra Houben, inspired by the power of new and digital media. Aurora Orlandino, Federica Scarfò, Maria Kyriakou invite us to buy less and recycle better. Nicoletta Margaret Lindquist, Claudia Pannozzo, Francesca Gasparri, Suna Barisik use fabrics as sheets of paper on how to write a new story. The story that Silvana Squicciarino recounts on the other hand, starts from her native region, Puglia, and unfolds through natural fabrics, accessories in olive wood and ash recovered and made precious by aromatherapy and essential oils. Marta Macaluso delves into her past by rielaborating the Sicilian outfit, dyed with natural and super local pigments. Martina Di Sarno travels between East and West and transforms former electric cables into jewelled belts. Lisa Graziani uses fabrics recovered from warehouse stock for furnishings, and takes us into the world of soft refinement and comfort in which to always feel at home. Inclusion and the fight against prejudices are in the collection by Giulia Ricci, made up of transformable dresses and soft kimonos with naïf embroidery. Asja Bertini, on the other hand, combines the visual power of Goth aesthetics with the concept of oversize for a modular collection designed for those seeking function and versatility.