CELEBRATE THE 100th ANNIVERSARY OF CORSINI PANETTONE
Oskar Johansson's winner project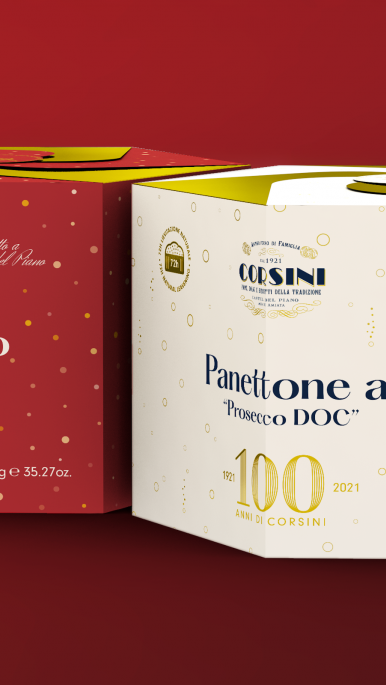 Oskar Johansson's winner project
Oskar Johansson, awarded 1000 Euro for her graphic design project as well as the opportunity to personally follow the entire executive phase in the company. The partnership between the school and the historical Monte Amiata bakery continues into 2022.
Florence, 9 December 2021 – A packaging with a contemporary design to wrap up the flavours of tradition: Oskar Johansson, a Swedish graphic design graduate from the Accademia Italiana in Florence designed the traditional Italian Christmas cake 'panettone' packaging that celebrates the 100th anniversary of the historical Corsini Bakery in Tuscany, that has its origins Mount Amiata slopes dating back to 1921.
The celebration panettone marking 100 years of excellent bakery production, is available in two versions: the classic Ubaldo Corsini panettone made with sultanas, candied orange and lime peel, Corsini mother yeast and fresh Tuscan milk, is a tribute to tradition and lovers of classical flavours; the "Prosecco DOC" panettone, is a toast to the future and to new flavours.
The packaging is the result of a competition launched by Corsini Bakery to neo-undergraduates from the three-year Graphic Design program at the Accademia Italiana. A group of young designers took up the challenge: Alessia Lapomarda, Melissa Balletti, Adele Tempestini, Giuseppe Gabrielli and Oskar Johansson; under the supervision of Walter Conti, the coordinator of the degree program in Graphic Design, to present the company with a wide range of creative proposals to "wrap up" the two Christmas cakes.
After an intense selection process between the designers and the company, with meetings aimed at defining the concepts, Oskar Johansson's proposal was chosen. Osakar was awarded the 1000 Euro prize and the possibility to follow the entire executive phase of the packaging production. The two celebration panettoni, in a limited edition, will soon be available online for purchase. https://www.amazon.it/corsini