Re-Generation: cashmere fibers turn into capsule collections
New partnership between Tesma Cashmere company and Fashion & Textile Design Master's students of Accademia Italiana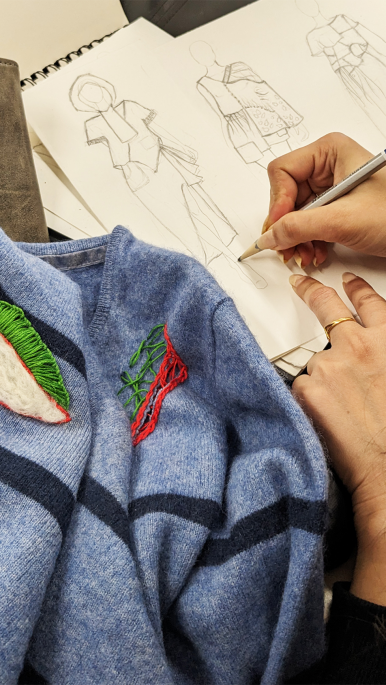 New partnership between Tesma Cashmere company and Fashion & Textile Design Master's students of Accademia Italiana
Textile fibers coming from production waste turn into clothes and collections thanks to Accademia Italiana students of Fashion & Textile Design Master Program.
Florence, November 10, 2023
Ethic in fashion, an element that both Accademia Italiana and Tesma Cashmere care a lot about, is the focus of the new collaboration starring Fashion & Textile Design Master's students from Florence.
Since 1990 Tesma Cashmere has been dealing with cashmere fiber regeneration in its headquarters in the province of Prato. Its mission is the protection of the environment through the regeneration of raw material derivative from obsolete clothing.
Re-generating is the keyword of the didactic project, from which will re-born new clothing and accessories with a zero-waste trait. Through handcrafted techniques and manual work, the young designers will create 4 capsule collections on sustainability and recycling of textile production waste.
It will be given new life to second-hand cashmere tops without the need to occur to a new dyeing, avoiding useless water consumptions and use of chemicals.