Fashion Design Courses for american students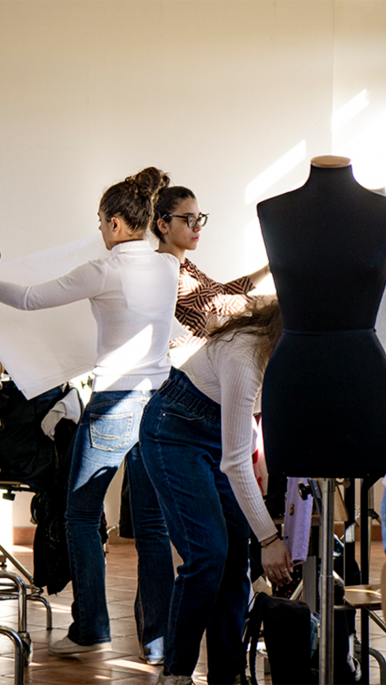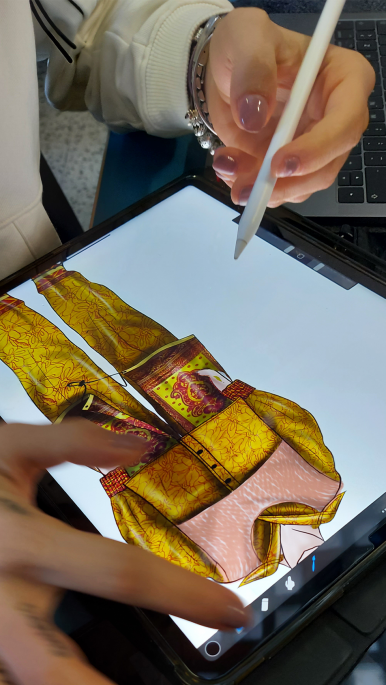 ACCF TDTP 290 Serigraphy - Textile Printing
ACCF FDWD 190 Window Displays Design
ACCF FDTT 390 Tailoring Techniques
ACCF FDCS 390 Clothing Samples
ACCF FDCT 301 Fashion Illustration 3 – Color Techniques – fall semester*
ACCF FDCT 390 Collection 3 – fall semester
ACCF FDCT 490 Collection 4 – spring semester
ACCF FDFP 490 Fashion Photography
ACCF FDTC 390 History of 20th Century Fashion
ACCF FDFL 590 Final Projects Sewing Laboratory
ACCF FDMK 490 Marketing and Trends
ACCF FDAD 490 Accessories Design
ACCF FDTD 490 Textile Design
ACCF FDFI 190S Fashion Illustration - summer
ACCF FDIF 390 Intensive Fashion Design - summer
*Please note that unless otherwise indicated, courses are taught both fall and spring semesters.
ACCF TDTP 290 Serigraphy - Textile Printing
This is a practical course based on the techniques of serigraphy. Students will develop a personalized design to be then traced onto a stencil so that it may be printed onto a fabric using colored acrylic paints. Students will be able to experiment in the application of their various designs on types of T- shirts, scarves, etc. The students may also apply this technique of textile printing to garments that they have created.
ACCF FDWD 190 Window Displays Design
The course is a basic but intensive introduction to window display design. It is the key step to those who aspire to become visual merchandisers as well as retail designers. How to capture the customer's attention and trigger their desire using creativity and technique? The program combines basic elements of visual merchandising as well as important basic tools of design. In order to improve and accelerate students' professional skills, part of the program will be developed in close relationship with partner stores, using the "learning by doing" approach. Students will work on the design and installation of a window display, creating unique decoration using techniques learned in class. The course is taught with a combination of lectures, discussions, group activities and field work.
ACCF FDTT 390 Tailoring Techniques
This course is intended to provide students with the disciplinary tools necessary to address the design process with the aim of producing a collection of quality clothing from concept to development, paying particular attention to detail and tailoring methods. The student will be asked to produce a capsule collection for the "Met Gala", for which they will draw 4 or 5 important high-fashion outfits and develop 2 pieces or 2 outfits, using tailoring sewing techniques. Each student will produce at least two garments or two outfits taking part of a project within the theme, proceeding in accordance with the logical sequence to produce a garment (inspirational theme, choice of color & fabric, colored drawings, technical drawings, technical sheet, pattern, prototype, final and complete garment), paying particular attention on the choice of tailored details.
ACCF FDCS 390 Clothing Samples
This course aims to provide students with the necessary tools to strengthen and refine their technical knowledge of the various phases of clothing samples production, using the same methods learned in Clothing Samples I. For their first project, student will produce a mini-collection with a number of pre- established items (a shirt, a dress, a jacket), using industrial and semi-industrial sewing techniques. For their second project, students will construct a garment from their Collection IV projects that has been approved by the instructor. According to the class's level of knowledge and time permitting, a coat study will also be considered. (A second-hand coat will be studied in detail in order to comprehend all details of its construction). Students will apply their knowledge of the various phases of the industrial process of garment creation as learned in class and will create their own mini- collections. Students will be expected to work independently and to correct their own mistakes. All steps of their work processes will be included in the final evaluation.
ACCF FDCT 301: Fashion Illustration 3 – Color Techniques – fall semester
This course will introduce students to the use of different color techniques to illustrate fashion collections for men and women. Students will be taught how to represent different fabric types and textures as well as fashion accessories. Their fashion illustrations will become more realistic with the application of colour techniques (water coloured pencils, water colours, Pantone pens). Students will be shown how to apply various colour techniques to represent fabrics (silk, transparent organza, knitwear, fur, etc.) and volume (lights-shadows). At the end of the course each student will present a portfolio with a collection of garments for men and women which demonstrates his/her ability in drawing and the application of colour techniques selected to best illustrate the components of the fashion collection.
ACCF 390 FDCT Collection 3 – fall semester
Collection 3 is a course that connects students with the creative work of a fashion designer. The aim of the course is to convey the importance of conducting quality research. Research is essential for analyzing the market, anticipating a trend and identifying original inspirations. The course aims to provide students with the concepts that will help them develop a personal method through which to critically analyze fashion shows, market phenomena and trend forecasts based on criteria provided during the course. Students will acquire the necessary knowledge to conduct original research based on sources of inspiration and to interpret it according to their own personal style in the form of an original and unique collection. The course will provide students with the tools to meet the demands of the market/brand/customer in an original, professional way, a fundamental ability for inclusion in the industry. The course will provide students with the tools to convey their analyses, ideas and creations in a visual and personal language.
ACCF FDCT Collection 4 – spring semester
The objective of the course Collection IV is the acquisition by the student of all the is to provide students with the skills and knowledge that a fashion designer needs to be able to transform an idea into a collection by following the creative process. The 3 projects which will be developed during this semester will demonstrate the student's ability to interpret an idea in a personal and unique style. Each step of the process should be explained in a professional way from the creative, technical, graphic and compositional perspectives. During the course, the interaction between the design and the pattern making/sewing workshop will be of great importance as it will demonstrate the students' skill in translating a sketch into a real garment. Students will be asked to experiment with their creative intuition when manipulating textiles and materials and will work on re-fashioning existing garments into something new. Projects created during this semester can be included in the final portfolio. The main steps of each collection are the following:
● Research and focus the theme of the collection
● Creation of inspirational mood-board and color card
● Fabrics, yarn and accessories selection
● Sketches
● Technical drawing by hand and/or Illustrator
● Creation of garment based on sketches
● Re-fashioning of existing product into something new
● Textile manipulation
ACCF FDFP 490: Fashion Photography
This course analyzes the visual aspects of fashion communication, providing a critical history of fashion photography and illustration from its beginning to the trends of today, emphasizing iconography and the major masters of the camera, designers and art directors. Students will explore current fashion practices and developments in publicity and advertising, including editing and different views of fashion, as they have evolved along with the modern woman. In preparing a personal advertising project, students will gain an awareness of current practices of visual communication in fashion.
ACCF FDTC 390 History of 20 th Century Fashion
This course explores the historical development of fashion in the 20th century, examining both high and popular fashion, mainly in Europe, placing fashion products and concepts within the social, cultural and economic context. In this introductory course the emphasis is on these interconnections, but some elementary notions of fashion theory, especially in regard to gender and marketing, are addressed. The multifaceted cultural phenomenon of haute couture (high fashion) is the course leitmotif. The work and impact of notable designers receives special attention. Students also consider the relationship between fashion and the principal Western cities, such as Paris, London and Milan. Lastly, the course also offers an extended reflection about the very notion of "fashion."
ACCF FDFL 590 Final Projects Sewing Laboratory
ACCF FDMK 490 Marketing and Trends
This course aims to provide all the necessary knowledge and skills related to Fashion Marketing. The course focuses in the first phase on "main" issues relative to the world of fashion and luxury, with the purpose of clearly defining what links the two sectors and the most common clichés relating to both. In the second phase, all aspects relating to general marketing, market positioning, the phases of building a successful brand and the differences relating to the marketing of fashion and luxury will be examined. The specific dynamics related to brand identity, distribution and price will be discussed, as will the distinct communication that passes through the luxury experience provided to the customer and the organization of an event, as a privileged marketing tool in the fashion world. Students will be involved in group activities with the aim of developing a practical methodology related to the course topic. Case studies will facilitate an understanding of the dynamics of marketing and the professionals involved.
ACCF FDAD Accessories Design
The course aims to provide the disciplinary tools necessary for the design of an accessories collection. The students will deepen and improve their technical skills by independently designing a collection inspired by the theme of their final fashion collections. The topics covered will be the following: sketches in 3/4 of the proposals, 1:1 full scale drawing, development family in 3/4, technical sheet, rendering, sketchbook containing sketches, notes, etc. Before the fashion show there will be 2 laboratory lessons where students will be able to materially create or personalize, change or modify existing objects for the fashion show accessories; everything must be documented with photos and descriptions in order to create a mini photographic catalog of the work in progress of the accessories made.
ACCF FDTD 490 Textile Design
This course encourages students to expand their design skills and creativity by developing technical knowledge and awareness of the range of materials used in fashion. The student will undertake a series of projects useful for their portfolio. The aim of the Textile Design course is to improve the communication skills necessary to illustrate design concepts, textile trends, and new textile lines through the use of computer-based design approaches. Students will receive a comprehensive overview of the textile industry and will develop a basic knowledge of yarns, cloth construction, textile terminology and fibers, including their origin, structure, properties and characteristics. Theoretical knowledge will be applied to fabric selection for appropriate end use. We will explore the aesthetic and technical aspects of presentation boards and their relationship to the textile industry. Students will work on focused themes, learn how to sketch quick motifs, create pattern repeats and develop textile designs. Particular attention will be given to printing, laser cutting and fabric embroidery. The lessons are structured with lectures, technical and practical demonstrations, in-class group critique and discussion, individual class work and presentations and tutored assistance. There will be online tutorials and reviews.
ACCF FDFI 190S Fashion Illustration – summer
This course introduces students to the basics of fashion illustration. They will be taught the technical and artistic skills with which to stimulate and develop their creativity in depicting illustrative forms of clothing. Students will learn to correctly draw stylized technical sketches of the human figure (both male and female) in different positions (frontal, side, back, in movement) as appropriate for illustrating fashion designs. They will develop a personalized, skillful and quick illustrative technique for the interpretation of colored fashion designs depicted on the human figure and apply technical and coloring skills to drawn figures to visually represent their collections in an expressive way.
ACCF FDIF 390 Intensive Fashion Design - summer
The components of this intensive summer course are Fashion Illustration (figure drawing and color theory) and Introduction to Collection. Students will be taught the technical and artistic skills with which to stimulate and develop their creative abilities in the creation of clothing illustrations. The collection component includes an introduction to the work of the fashion designer, focusing on the basic practical techniques of fashion design applied to men's and women's wear. The course will teach students the fundamental techniques used in the design of stylish, creative and coherent fashion collections. The course will focus on technical fashion design, fabric analysis and research and product presentation. Lessons will be held from Monday to Thursday for 4 hours a day for the duration of the six-week course.