Students from the Fashion Design program
present their collections at Altaroma Altamoda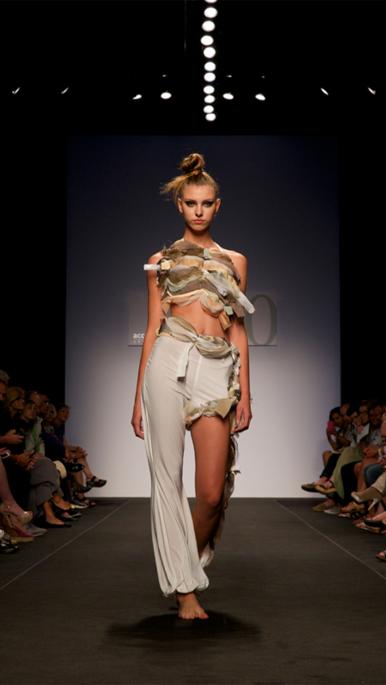 present their collections at Altaroma Altamoda
A long awaited event for students of the School that celebrates 30 years of activity this year. The 2014 edition of AltaRoma AltaModa once again welcomes into the fold the creativity of the young, upcoming designers who, in line with the philosophy of the fashion design school with headquarters in Florence and in Rome, have created collections that follow ethical and recycling themes. They have used recycled materials in their creations to obtain precious, unusual and surprising results.
Around 70 garments have been created entirely by the 2nd and 3rd year students in perfect synergy with the concept of "know-how" typical of the "Made in Italy" brand.
In one design, a vintage atmosphere is created with "upcycled" denim for modern outfits, and in another a "poor" material, jute, is frayed and decorated with stones and unusual appliques creating colorful splashes on the material, with ironically luxurious results. Art and fashion unite in technical gabardine combined with futuristic structures in honor of the genius Paco Rabanne. Art and fashion unite in outfits of technical gabardine fabrics combined in futuristic structures that pay homage to the genius of Paco Rabanne and in aluminum recovered from scraps of industrial waste reworked into Art Deco designs that reflect the work of Alphonse Mucha, becoming three-dimensional with embroidery made of recycled PET. Gustav Klimt's masterpieces are transformed into clothing with crochet details made from threads extracted from bags used to sort recycling, to an extremely interesting effect.
Paper ribbons in sisal that look like tulle, polyester boule and broken CDs that become garments of snow and crystals for a neo ice queen that carries one into an enchanted and romantic world.
And again, primordial inspirations in the works of woven ribbons cut from fabrics that wind around the body in a warm embrace, like the birth of the human race through the figure of Eve and the serpent whose coils are made of scraps of paper and hand-painted cork that surround the body.
The collections continue with tribal echoes and ethnic flavors. Organic, artisan fabrics painted with natural colors (like banana leaves) lend a fusion flavor of oriental culture, and recycled wools used in the hand made Navajo style bring to mind ancient carpets for a modern dandy.
Scraps of recycled leather are reworked in an overlay patchwork to create a sensual play of tailoring contrasts that results in a look somewhere between masculine and feminine, perfect for an Alpha Female.
The students have done important research in the direction of new technologies, such as neoprene and thermo-adhesive tapes that take the place of stitching, application of 3-D prints and digital tailoring. UV reactive paints create unexpected and suggestive effects that remind one of "boiling ice" and printed fabrics with colors that flake and spread to create the effect of breakage similar to ancient paintings created with digital techniques.
Click here to view students' works.