Arts and Design Summer Courses at Accademia Italiana in Florence, Italy
Summer is a great time to study at the Accademia Italiana in Florence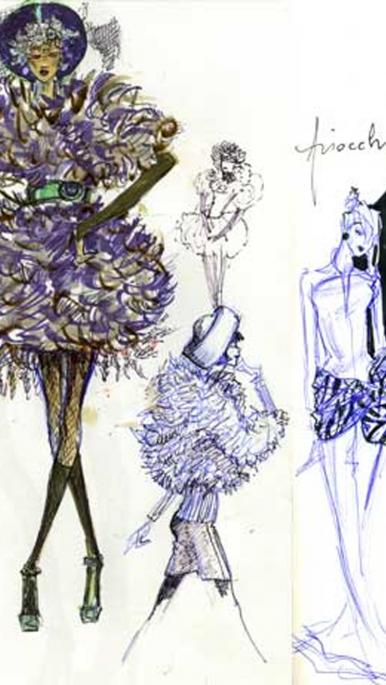 Summer is a great time to study at the Accademia Italiana in Florence
Fashion design, photography, arts, product design, yacht design and space design are some of the 2010 summer courses on offer at the Accademia Italiana design school in Italy.
Summer is a great time to study at the Accademia Italiana in Florence, exploring new possibilities in the arts field while living an exciting experience in one of the most beautiful cities of the world.
The Summer classes offered by the Accademia Italiana cover a wide range of subjects in the arts and design fields, in addition to all levels of Italian language courses.
During the Summer session, the Accademia Italiana offers basic level programs for beginners, as well as programs at intermediate and advanced levels for those students who already have the necessary technical knowledge.
The summer courses at the Accademia Italiana are taught by the same professors as the 3-year Bachelor's Degree programs, ensuring academic excellence.
Lessons are held both in Italian and English, while some specific courses are taught only in English language (information may be found in the secretary's office at the school).
Upon successful completion of each course, a certificate is awarded.

Studying in Florence for the Summer
The Accademia Italiana has been operating for decades in Florence and has acquired an excellent international reputation thanks to its art and design programs, which are widely recognized among the best on offer.
The headquarters of the school are in the historic center of the city, in a 19th century building just opposite the famous Pitti Palace and only steps away from the most important monuments of this beautiful city such as the Cathedral, the Ponte Vecchio, Piazza della Signoria, the Uffizi Gallery, the church of Santa Croce, etc.
During your period of studies, it will be easy to organize visits to the museums and monuments that line the streets and squares near the school.
ACCADEMIA ITALIANA SUMMER COURSES IN ITALY

Italian Language courses in Florence
In the months of June, July and August the Accademia Italiana of Florence offers Italian language classes at different levels (basic, intermediate and advanced). These courses are aimed at all foreign students interested in the Italian language, and are also strongly recommended to any foreign students who will attend the academic courses beginning in September.
Levels: basic - intermediate - advanced
Duration: from 1 to 3 months
Period: June, July, August

Beginners and intermediate Drawing and Painting classes
These monthly courses may be attended for 40 hours per month (regular course) or 80 per month (intensive course), in the months of June, July and August. The students work in a spacious art studio located just a few steps away from the Uffizi Gallery on the famous "Lungarno".
Level: basic / intermediate
Duration: from 1 to 3 months
Period: June, July, August

Intensive course in Fashion Design
This is an intensive (90 hours in one month) course which students may attend for one or two months (June and July). Its program covers the subject in a concise yet comprehensive manner, introducing the student to the fascinating world of fashion. The curriculum includes a number of subjects which are fundamental in the field of design.
Level: basic / intermediate
Duration: 1 or 2 months
Period: June / July

Understanding Fashion Illustration
This program, which lasts one month, runs for 40 hours. The lessons cover illustration of the human figure for fashion purposes, a study of the human figure, a definition of fashion illustration, the drawing garments with graphic effects for volume and fabric texture.
Level: basic-intermediate
Duration: 1 or 2 months
Period: June / July

Italian Product Design
This course is held completely in English language and provides an introduction to "Italian Design" and to the multitude of styles and trends known as "Italian style". The subject is approached both on an academic (theory and history of design) and on a practical level (product design with practical exercises).
Level: intermediate / advanced
Duration: 6 weeks
Period: from June 15 to July 23

An introduction to Photography
This 40-hour ground course is aimed at beginners, and is held in the month of July. Lessons will discuss both image analysis and photography: master the basic techniques to make the best use of your camera, and learn about photography as a visual art.
Level: basic course
Duration: 1 month
Period: July

Photographing Florence
Develop artistic skills and learn the art of photography while discovering the secrets of one of the most fascinating cities in the world. This is the aim of this summer course, held completely in English language. Photography will mainly cover outdoor spaces. Each student will try to capture the soul of the city through pictures of its architecture, its squares and winding streets, its corners and the people.
Level: basic course
Duration: 6 weeks
Period: from June 15 to July 23

Yacht Design
This is a specialization course, a real mini-master offered during the Summer months and aimed at designers, architects and students already attending design programs. The nautical industry is achieving a place of excellence in Italy, and Tuscany is one of the most important locations worldwide for the production of yachts, sailboats and outboards.
Level: basic course
Duration: 6 weeks
Period: from June 15 to July 23
Space Design
With its 100 hours of classes, this specialization course is a Summer mini-master open to designers, architects, and design school students. The design of functional elements that support human life in space is intended to draw from the know-how of advanced research in the field, and transfer it as an added value to the design of commercial products for daily use.
Level: Advanced
Duration: 6 weeks
Period: from June 15 to July 23

HOW TO ENROLL
To enroll in the Accademia Italiana summer programs the student must send the following to the secretary's office at least 45 days before the beginning of the course chosen:
a) The personal information form enclosed, filled out in all its parts (this form is also found on our web site www.accademiaitaliana.com).
b) The photocopy of a personal identification document (passport or other valid document for foreign students);

All documents and fees must be sent to the following address:
Accademia Italiana
Piazza Pitti 15
50125 Florence (Italy)
ph. +39-055-284616
fax +39-055-284486
e-mail: study@ai-it.it

Wire transfers may be sent to our bank account:
Accademia Italiana
c/o Monte dei Paschi di Siena
Piazza Pitti, Florence, Italy
Swift code: PASCITM1W23
IBAN: IT 03 H 01030 02843 000000126204

ACCOMMODATION ARRANGEMENTS
The Accademia Italiana helps its students find places to live, in rooms and apartments shared with other students. The student is referred to the owners of such apartments and will make any economic arrangements directly with them. The school offers this information service free of charge to its students. This is not an agency service. Whenever possible, the secretary will make such arrangements as the student requests.
The prices of rooms in shared apartments in Florence vary from about € 380 for a bed in a double room to about € 500 for a single room per month.