A trendy Window Display dedicated to the fashion creations of Accademia Italiana students
Luisaviaroma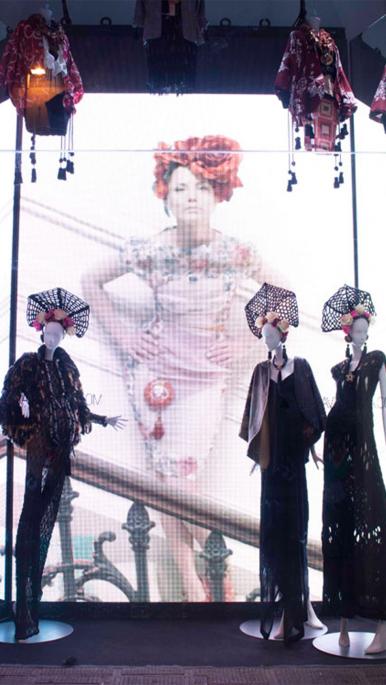 Luisaviaroma
What better location - for an aspiring designer or photography or video student - than the most important window display for young, trendy fashion: Luisaviaroma?
In the very center of Florence, just steps away from the Cathedral, with spectacular pop-art videos, high prestige, recognized as one of the most elite fashion shops in the city for decades. Luisaviaroma has been interested in the young talents of the Accademia Italiana for many years and has attended numerous fashion shows, events and professional lectures/ presentations held at the Institute.
This famous brand is today one of the most important on-line fashion sellers (3 million contacts each month) and also hosts the most important international fashion bloggers who arrive in Florence punctually for Pitti Uomo.
The Accademia Italiana - Luisaviaroma initiative is destined to become an annual appointment becoming a model of synergy between the most important Italian fashion companies who with great conviction and passion promote young talent concretely opening for them full professional potential.
The window display at Luisaviaroma is a high level launch pad that continually proposes new ideas and is always perfectly linked to a great solidity in the brands presented.
The creations of the students of the Accademia Italiana were unveiled on September 26, displayed at Luisaviaroma, in the center of Florence, with garments and video created by some of the best students and chosen by Luisa Panconesi herself. The students thus have found someone who believes in their talents and has offered a concrete possibility for entrance into the working world. Each year, in fact, at least one major window display will be dedicated to the students of the Accademia Italiana.
Students chosen to present their works at Luisaviaroma are:
- Giulia Pastorelli (fashion design course: women's wear)
- Giulia Baldacci (fashion design course: women's wear)
- Antonello Comito (new graduate of the Graphic design program, created the video)
Applauded by fashion-bloggers worldwide, by artists and professionals in the world of fashion, Luisaviaroma has been considered for years the most innovative and significant reality in Florence and Tuscany both in the fashion sector and in web-fashion.