Autumn Conferences
Fashion: between past and future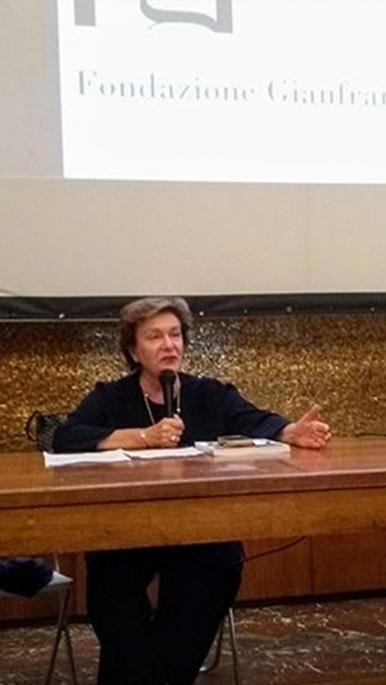 Fashion: between past and future
"You are very fortunate because the windows of your classrooms look out on the place where fashion was born".
The allusion is to the Sala Bianca of the Pitti Palace, the speaker, Eva Desiderio, well-known fashion journalist, historically with QN and today fashion critic, in her opening remarks of the conference dedicated to the fashion field held on November 5 at the Palazzina Reale in Santa Maria Novella.
More than 150 students listened attentively to the remarks of the journalist who traced an historical journey through the local, national and international fashion industry from its birth in Florence in the early 1950's to the present, passing through the wonderful 1980's, marked by the creativity of fashion designers of the caliber of Versace, Gucci, Valentino and Armani, as well as minor actors such as Alesandro Dell'acqua or Vivietta, because creativity, she observes, can be born and proliferate even in a backroom.
The important thing is to believe and have courage. And the perfect example of the must-see fashion show, advises Eva Desiderio, is that of "Armani, not to be missed!" The microphone was then passed to Rita Airaghi, director of the Fondazione Ferré.
To illustrate her comments, she provided slide after slide of fashion shows created by the architect and fashion designer from 1973 to 2007, including some from the period when he was Creative Director of the house of Dior. "The Museum of Costume and Fashion here in Florence conserves more than 300 high-fashion creations donated by Ferré himself" she explained, "But it was with pret-a-porter that Gianfranco Ferré started the revolution in those years (1980's) in the fashion industry." "Those were the years of women's liberation", adds Eva Desiderio.
The Ferré Foundation, in Milan, in addition to conserving the materials, the patterns and many garments, was born with the aim of transferring to young designers an historically contextualized concept of his creativity, that even today is a true source of inspiration for fashion. The conference was concluded with words offered by Marco De'Micheli, head of the fashion design department at the Accademia Italiana, in recognition of his mentor, Gianfranco Ferré, for whom he worked as creative assistant for many years. Lof